Hello there! Welcome to the インディー通信 Indie Tsushin blog! I am Renkon (EN), and together with my partner Daikon (JP) we are Nice Gear Games. We plan to use this space to cover tons of cool and interesting indie and doujin games from Japan!
Indie and doujin games from Japan?
Yeah! There is so much good stuff out there. I grew up looking for and playing Japanese doujin games by poking around sites like the Anime Web Turnpike and Otaku World. I couldn't understand Japanese at the time, but boy did I have fun blasting my way through fan-made 弾幕 (bullet hell) games with unlicensed anime characters, puzzling over surreal visual novels, and diving down the rabbit hole of dungeon-crawlers. Unfortunately, a lot of those games I remember so fondly have been lost to time or died along with Flash. Fortunately, there are still countless Japanese devs putting out even more creative works than ever before!
So this is a review site?
Nah, I don't do reviews. This place is for introducing and highlighting games. Of course, I will be be talking about why I find them appealing, but everything I talk about here will generally be stuff I enjoyed. There are no "objective" reviews here with scores, this is just a place for me to shout about some cool thing I found.
Anything else?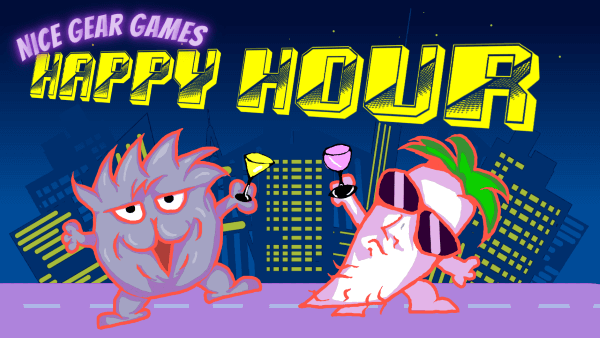 My partner Daikon and I run a weekly bilingual show on YouTube called Happy Hour where we talk about some cool games we found! Join us Thursdays from 9PM JST!
You can also subscribe to this blog's RSS or follow us on cohost! to get updates when new posts go up. Also be sure to check out our Video Archive and Zine Archive for stuff we have worked on up to this point.
There is so much cool stuff out there, and I am looking forward to gushing about it all with you!